Chiropractic Testimonials
Great Results With Chiropractic
Great Results With Neuropathy
Gerald's neuropathy story
---
"Feel so much better after my adjustment. Dr. Hunter is gentle yet effective."
- Loretta W.
---
"My FIRST visit to this office was AWESOME. The staff was very inviting with comforting voices. I was anticipating this visit because I'm tired of being tired of my low back hurting and want to get to the core problem and start a plan of action. I've never been filled with anticipation to see a doctor, but I can't wait until my next visit. My first visit was also very educational; I learned something new and very interesting about my back. I would totally recommend this Doctor's office; first impressions are everything for me. Thanks!"
- Mina M.
---
"Drs. Valerie N. Hunter and LaMar Hunter Sr. not only empowered me during my chiropractic care with them but inspired me to become a chiropractor myself... little did I know I, too, would marry a chiropractor! I love them and their family and am forever grateful for how they reached my inner being to rise up and do great works in this world. Now, I get to offer the gift of chiropractic to others!"
- Princess D.
---
"The minute you walk into the Center you are made to feel at ease, especially in these stressful times. From the ability to "sign in" through a touchless app to the pristine, yet welcoming,, environment. Everyone aims to make the patient feel safe and special, using the latest practices to relieve discomfort in efficient and effective methods. They truly appreciate their clientele and their caring makes you feel like you are family. I would highly recommend Hunter Chiropractic & Wellness Center!"
- Jill K.
---
"Great place! Doctors and staff super friendly! Seeing results in my lower back pain within just one month of treatment. Would recommend!"
- Nick P.
---
"I love this place!!! You can sense that the doctors and staff truly care about you healing and getting better. The Hunters are Extremely knowledgeable and caring. Best doctors ever!!! I recommend going here and getting a scan to see how they can help you with any or your needs!"
- Troy J.
---
"Very friendly and kid-friendly (they adjust your babies too), the doctors a very good at explaining and teaching you about the benefits of getting adjusted and what treatments will benefit you."
- Karisma K.
---
"This dynamic duo are two of the most amazing chiros out there. If you are in or around the area this is the place to be."
- Cepeda L.
---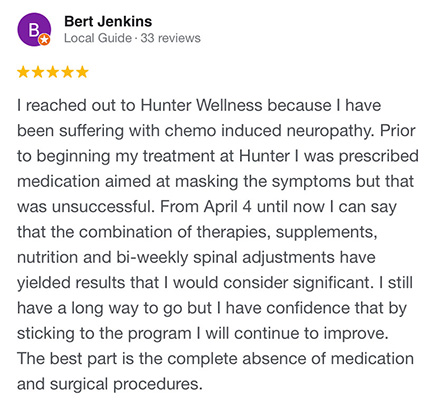 OFFICE HOURS
---
Monday
8:30am - 5:00pm

---
Tuesday
8:30am - 6:00pm
---
Wednesday
8:30am - 5:00pm
---
Thursday
8:30am - 12:30pm
---
Friday
Closed
---
Saturday & Sunday
Closed